Therapies at The London Clinic
Our team of experienced and recognised therapists provide a wide range of treatments to patients staying at our hospital and to those who choose us for outpatient treatment. 
By choosing us, you can get a full assessment followed by a personalised treatment programme tailored to you – your abilities, lifestyle, activities, personal goals and aspirations. 
And to ensure long-term results, we treat your condition, not just your symptoms.
With a range of departments, highly trained specialists and the latest equipment, we have everything you need in one place to support all aspects of your care.
It's easy to book and you can pay for yourself, or, in many cases, you can use private medical insurance. 
After your assessment, we'll make it easy with a simple price package for the care you need.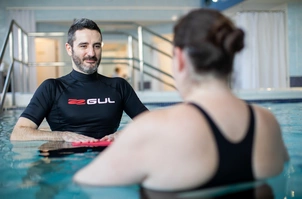 Why choose The London Clinic
Excellence in one place
We operate as teams of experts with world-class resources dedicated to maintaining the highest standards of medical care. You are surrounded by the latest treatments and advice with everything you need to get back to your best health.
Personal care, every time
Exceptional patient care is a way of life for us. Our nurses, clinicians and support teams are dedicated to the care of a very small number of patients, so have more time for you. They'll be with you every step of the way, tailoring your care around you and giving the peace-of-mind that comes with knowing you're in the best hands.
Effortlessly simple
We work together as one to guide you through each step of your experience, with complexities unravelled and answers readily to hand. Your personal treatment plan will be laid out for you, with all the details taken care of so you can focus on you.
Our specialists
We only work with highly skilled and experienced physiotherapists so you can relax knowing you're in safe hands.
Our teams are present on every clinical floor across the hospital, dedicated to offering you tailor-made treatments by using innovative and evidence-based practice.