When you choose The London Clinic, you are in the best hands from the beginning. Here's how we do it:
We truly specialise.  In every type of cancer, even rare blood cancers.  In gynaecology and women's health.  In urology and conditions of the kidney and bladder.  In muscular skeletal problems, like bones and joints.  And in world-class robotic surgery. To name a few.
We bring together internationally renowned consultants, with teams of health professionals and highly qualified nurses that specialise in the care and treatment of these conditions. 
We continually invest and re-invest in state-of-the-art facilities and medical technologies.  Like our ground-breaking cancer radiotherapy treatments.   And our Level 3 intensive care unit, dedicated to providing the highest level of round-the-clock care, anywhere.  
These multi-accredited treatment centres are the heart of The London Clinic.  Everything and everyone working together under one roof to ensure every patient can benefit from world-class medical care.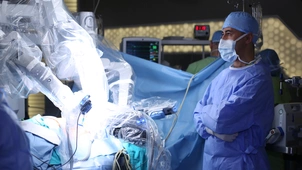 Facts
Over 900
Specialist consultants
Over 30
Clinical nurse specialists
£6.8m
Investment
In 2019, The London Clinic charity invested £6.8 million in facilities and technologies.
Excellent
MQEM
'Excellent' Macmillan Quality Environment Mark (MQEM) for our cancer centre, the Duchess of Devonshire Wing.