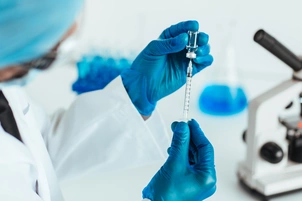 The London Clinic is embarking on a new study to improve treatment options for Addison's disease, a rare condition impacting around 9,000 people in the UK.
Addison's disease occurs due to a lack of cortisol and aldosterone hormones. These two vital steroids, usually produced by two adrenal glands located just above the kidneys, help the body respond to physical and emotional stress.
Early-stage symptoms of Addison's disease include fatigue, weakness, increased thirst and a low mood, not unlike depression or the flu.
However, if left untreated, these symptoms can worsen and lead to dizziness, fainting, cramps and exhaustion. Those who experience these issues should seek medical advice from a healthcare professional, such as an endocrinologist, who will be able to investigate the cause.
Although no cure is currently available, Addison's disease can be treated with medication that replaces the missing hormones.
However, if cortisol levels fall significantly in someone with Addison's disease, they are at risk of an adrenal crisis and their symptoms dramatically worsening. If this happens, an emergency hydrocortisone injection is required immediately.
"A dose of hydrocortisone injected into the upper thigh can help to relieve an adrenal crisis by providing an instant boost of steroids," said Phillip Yeoh, Consultant Nurse in Endocrinology and Diabetes at The London Clinic.
"However, at present, this powdered or pre-mixed solution can be painful to inject for some, and awkward to inject if access to the upper thigh is required when in a public space."   
To explore if other options are available to people with Addison's disease, The London Clinic is sponsoring an open-label pilot study in collaboration with the Addison's Disease Self Help Group.
The clinical trial will involve Phillip and The London Clinic's Research Centre working with a total of eight patients. Over the course of three months, each patient will receive powdered and premixed hydrocortisone doses via four different injection sites.
After evaluating the absorption and effectiveness of each dose, it is hoped the research will provide people with Addison's disease with a wider choice of options that suit their lifestyle and personal needs.  
"The aim is to ultimately empower patients to self-manage their condition in a way that works for them. We'll compare the clinical benefits of self-administering the hydrocortisone into the shoulder's deltoid muscle, rather than the upper thigh," said Phillip.
"We'll also look at if it's practical to use a shorter, orange needle, which some people find less painful than the traditional and slightly longer blue needle."
This is the first time The London Clinic Research Centre has sponsored a clinical study in its entirety, including compliance, reporting and finance. This venture is evidence of our ongoing commitment to finding the latest treatments for patients, and the next step in our journey.
If you have Addison's disease and would be interested in discussing your potential involvement in this study, please call our Clinical Trial team on 020 7034 6213.
Find out more about Addison's disease and treatment options at The London Clinic.