The London Clinic Research Centre
The CRC is responsible for managing and running clinical trials, as well as other forms of research taking place at The London Clinic. 
Clinical trials are research studies that people take part in to help figure out if a medicine, surgical procedure or behavioural intervention can benefit patients' lives and improve their health.
Over the past two years, the CRC has successfully enrolled over 200 patients to a range of clinical trials including:
oncology (cancer)
orthopaedics (bones, joints and muscles)
gastroenterology (stomach and intestines)
The London Clinic's aim is to ensure our patients have access to a wide range of treatment choices, including new therapies that may not be available anywhere else.
The London Clinic is more than a hospital, and we invest in improving patients' lives beyond treatment. 
The Clinical Research Centre strives to help bring patients the newest, most innovative treatments.
The CRC also provides a range of services to leading clinical research organisations. We work closely with the BARTS Hospital, Imperial University, Moorfields, AstraZeneca, Kuros Biosciences, Ablative solutions and ReCor Medical.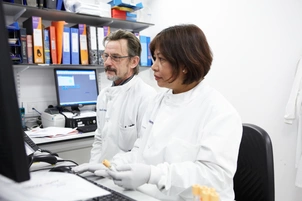 Clinical trials at The London Clinic
Our primary clinical trial studies include:
We have 4 trials currently working with new devices on the market to establish their efficiency with lowering blood pressure of patients that have exhausted all other avenues to stabilise their blood pressure.
A randomised study to evaluate the use of a certain medication that is used to treat asthma.
Trials involving knee replacements and MRI scans to evaluate the effect of running exercises and marathon training on joints, focusing especially on the knee and hip joints.
We are also heavily involved in the Pancreatic Tissue Bank and the Cancer Tissue Bank. With permission, we collect tissue and blood samples from patients that have cancer to establish new treatments and diagnosing techniques.
How to join a clinical trial at The London Clinic
The London Clinic has a range of trials taking place. In order to be recruited onto these trials, your consultant will discuss the trial with you and give you time to decide whether you want to participate or not.For the research tissue banks, the consultant and consultant specialist nurses will give you a brief introduction on the trials. The tissue bank officers will then come to meet you and discuss the tissue banks in more detail and answer any questions you may have. If patients agree to participate they will be consented to the tissue bank.
The London Clinic also hosts some clinical trials that are being recruited at other sites. In this instance, patients will be referred to The London Clinic for procedure and scans.
Find out more about trials and tissue banks here:
Blood pressure trial data publication 
Blood pressure trial medical report
Meet our Clinical Research Centre team