The London Clinic was the first private hospital in the UK to introduce robotic surgery.
Our Robotics centre of excellence comprises a wide-range of expert consultants, nurses, anaesthetists and other teams across all specialities.
We go beyond different specialties using robotics, to include pre-operative care with our anaesthetists and our clinical nurse specialists who provide top-quality care for our patients. 
Our multidisciplinary approach makes us faster, knowledgeable and more adaptable.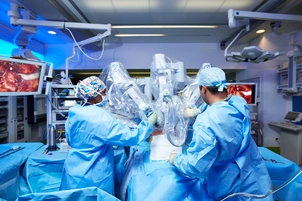 What is robotic surgery?
Robotic surgery is a form of keyhole surgery. The surgeon sits at a computer console and the computer-enhanced robot mimics the surgeon's hands and wrist movements and enables our surgeons to perform keyhole operations with greater accuracy.
Robotic surgery allows the surgeon to operate with enhanced vision, precision and control. Rather than making a big cut on a patient we can achieve the same effect through tiny key holes.
This benefits patients as they have a shorter hospital stay, less blood loss and pain. We are able to see the organ we are operating on in 3D, high definition which is beneficial for areas that have a lot of nerves and blood vessels that need to be avoided.
Robotic technology and treatments
A world-leading centre for multi-disciplinary robotic surgery
The London Clinic was the first ever private hospital in the UK to trial and offer robotic surgery for prostate cancer using the da Vinci® Surgical System back in 2005.
In 2018, we added a second robot to our offering; the NAVIO®, a robot used for knee replacement.
In August 2021, The London Clinic started using the ExcelsiusGPS® robot for spinal surgery.
We also have the use of Procept - waterjet robotic surgery - to help treat benign prostate hyperplasia (BPH).
Our investment in robotic technology shows our commitment to supporting consultants to deliver the best possible surgery for our patients. Our aim as a hospital is to remain at the forefront of driving innovation in patient care.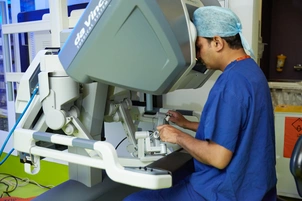 A word from our CEO
Our Chief Executive, Al Russell, discusses how the use of robots allows our patients access to the most advanced treatments.
Education and training
Education and training for our surgeons is critically important for providing quality surgical care, which  improve patient outcomes.
The London Clinic Centre for Robotics will help the next-generation of robotic surgeons to develop the skills they need to safely and confidently integrate technology into practice.
Training includes e-learning, dry lab and wet lab based teaching, interactive simulations, mentored learning and face-to-face training. 
We utilise a multidisciplinary model, with participation and incorporation of theatre staff, fellows, anaesthetists and surgeons.