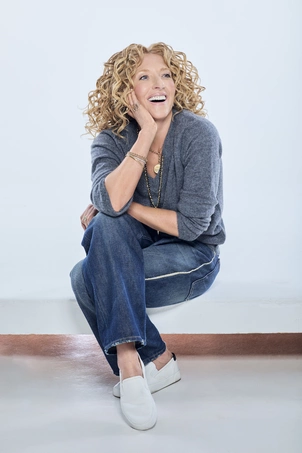 "It is advisable for women over 40 years of age to schedule having a breast examination and screening mammogram breast examination every 12 months." Miss Christina Choy, a Consultant Oncoplastic and Reconstructive Breast Surgeon.

Ms Hoppen's story detailing how she felt on diagnosis and throughout her treatment was published in the Daily Mail earlier this year in March. Ms Hoppen has kindly given her permission for the Clinic to further publicise her patient experience. In her story Ms Hoppen, aged 63, describes how she ignored routine invitations to have a mammogram and over the years she missed eight appointments in total. 
"It is important to remember that the purpose of screening is to pick up early cancer before any lump is palpable. Hence the importance of regular screening from mid-life onwards," said Miss Choy. "Especially if the breast tissue is dense then additional ultrasound scans are recommended."

Additionally, a breast panel gene test can be offered if there are indications. For breast cancer, this involves looking for the faulty genes BRCA1 and BRCA2, and additionally other important breast cancer-related genes such as PALP2, ATM, and CHEK2. "If a patient tests positive for a breast-related cancer-related gene, this can alter the cancer treatment approach," said Miss Choy.

Receiving a diagnosis of breast cancer, or indeed, any form of cancer is very worrying. However, reassuringly Miss Choy states, "When a patient is seen at The London Clinic and they require further diagnostic tests like Kelly - who had a biopsy post her mammography - the result is usually back within two to three days. As long as there aren't any complications our patients may only have to wait a week or two to complete further necessary investigations and then treatment can be started quickly.

"Kelly's case is a very positive patient story. She attended a routine scan, and although cancer was detected, after curative treatment her prognosis is excellent," continued Miss Choy. "However, the important message is: Always take the opportunity to be screened. Don't risk cancer growing and/or spreading. Have the tests, and know what exactly is going on within your body."

Read the full version of Kelly Hoppen's story for The Daily Mail: I skipped my mammogram every year for eight years…then I got breast cancer.
Attending for screening at The London Clinic
Find out more information about The London Clinic's rapid screening and diagnostics. 
In addition to patients attending a self-referral mammogram appointment, our specialised nurses show how to routinely self-examine. 
All patients receive take-home information and are recommended to do this procedure every month.   
More information for you
Find out more about breast cancer, including surgery and treatment options here.
For more information about the following examinations and treatments please click on the following links:
•    Mammogram
•    Ultrasound 
•    Magnetic resonance imaging (MRI) 
•    If you have a request form for a mammogram/breast ultrasound please contact breastimaging@thelondonclinic.co.uk or call 020 7616 7653 and choose option 4 to arrange an appointment.
How to self-refer for a breast screen/mammogram
If you would like to self-refer for a breast screen/mammogram please contact our Breast imaging Coordinator via email at breastimaging@thelondonclinic.co.uk or call 020 7616 7653 option 4.

Before making an appointment please ensure you fulfil the following criteria: 
•    You are asymptomatic - and you don't have any symptoms like pain and general breast lumpiness 
•    Aged over 40 years
•    Not pregnant 
•    It is at least three months since you gave birth
•    You stopped breastfeeding at least three months ago
•    At least 12 months have passed since your last mammogram

If you are experiencing any of the following:
•    Lump or lumps
•    Nipple discharge
•    Change of breast contour
•    Breast redness or skin changes 
•    Family history of breast cancer 
•    Anxiety about breast cancer issues 

It is recommended to book an appointment to see one of the Clinic's breast surgeons.
What happens at a mammogram appointment 
•    Before the mammogram you will be seen by the Breast Care Nurse Specialist to discuss the process and authorise the procedure. 
•    A bilateral mammogram (equalling four views) is then performed
•    The mammogram will be reported by two Consultant Breast Radiologists
Peace of mind payments
For information on self-pay treatment packages and 0% finance options (T&Cs apply) speak to our friendly Self-Pay team call 020 3219 3256.