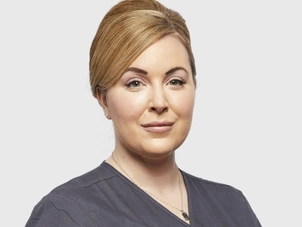 By improving awareness and education, and calling on government action on World Cancer Day, it is hoped that together we will reimagine a world where millions of cancer deaths are prevented and access to treatment is equitable for all.
It's also an opportunity to improve the lives of those people living with cancer, undergoing treatment or making steps to move on with their lives after their treatment has worked to fight off this terrible disease.
According to Fiona Murphy, a Well-being Therapist at The London Clinic, we need to be sharing knowledge of the broader services that are available – and "oncology skincare" is a recent term giving people pause for thought.
Put simply, oncology skincare is about understanding the effects that cancer treatments have on the skin and providing the right techniques and ingredients to remedy the impact.
For instance, skincare and nail issues such as skin rashes, redness, dryness, pigmentation and changes to nail colour can come as an unexpected surprise to patients, negatively impacting their body confidence and self-esteem.
"When going through cancer, keeping a sense of normality is one of the most important coping mechanisms we have," says Fiona. "It's easy to get lost, especially when it comes to our appearance."
"Oncology skincare offers a safe space to address your skincare concerns and how they can affect both your physical and emotional well-being."
Oncology skincare involves restorative therapies that help to build up the health of the skin and nails by using only safe, non-invasive skincare ingredients and protocols.
As the body's biggest organ, looking after our skin is vital. Its role is to protect us from various pathogens and maintain the body's equilibrium by forming a protective layer.
The goal during therapy is to analyse and determine what needs to be addressed to bring a patient's skin and nails back to a state of balance and comfort.
As a patient's skin and nails show signs of returning to a balanced state, the oncology skincare specialists can advise on future self-care treatments.
"Our intention is always to support and add value by using a truly personalised approach. Each therapy is as unique as the patient receiving the treatment," says Fiona.
"I believe that knowledge is power and, as an oncology skincare specialist, it's important to share that these holistic services exist. It's truly amazing the support they can provide for patients."
Further information
To find out more about our oncology skincare services, call 0207 935 444 (ext. 8097).
Disclaimer
Any views expressed in this article are those of the featured specialist(s) and should not be considered to be the views or official policy of The London Clinic.