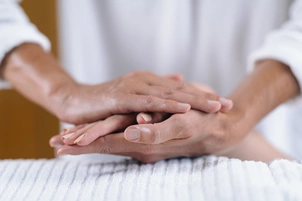 A cancer diagnosis – and ensuing treatment – is surely among the most distressing experiences a person can undergo.
Even after treatments such as chemotherapy and radiotherapy work to abolish cancer cells, patients are often left with stress, anxiety, fatigue, skin changes, poor appetite and hair loss.
Sometimes, these side effects can come as a surprise to patients, which is why a holistic approach to cancer treatment is vital to ensure that people receive the best possible care – from diagnosis through treatment and recovery.
Complementary therapies might fall outside of conventional healthcare, but according to Fiona Murphy, a Well-being Therapist at The London Clinic, they can play an important part in alleviating these many psychological and physical side effects.
"There are many reasons why people choose complementary therapies," she says. "For cancer patients, these services can provide benefits that go far beyond an hour of calm during a chaotic time when someone may not feel their best.
"Some people find that complementary therapies can help in coping with the stress of a cancer diagnosis and treatment by releasing physical tension, improving sleep and regaining a sense of control."
A broad range of complementary therapy techniques is available at The London Clinic, including aromatherapy, reflexology, reiki and a variety of massages.
"The gentle pressure of a massage eases the strain on tired muscles, tendons, ligaments and bones," Fiona continues. "But as well as alleviating stiffness, pain and restricted movement, massages can increase circulation, which aids the healing process."
One example is the ancient art of Indian head massage, which can offer relief from stress, tension, fatigue, eyestrain, sinusitis and insomnia. For patients who have experienced hair loss after treatment for cancer, massaging the scalp also has the added benefit of promoting healthy hair growth.
Similarly, reflexology targets specific points in the body to provide relief. A therapist applies pressure to certain areas of a patient's feet, hands and ears, as nerves in these zones are thought to be connected to different organs and body systems.
"Reflexology can identify and treat imbalances in organ systems, nerves and tissues throughout the body. Ultimately, it can enhance healing energy by removing toxins, improving circulation and reducing stress," Fiona says.
Alongside the more physical therapies, other holistic techniques such as aromatherapy can aid in promoting healing and emotional cleansing.
"For aromatherapy massages, we use a blend of essential and carrier oils specifically chosen for each patient's individual needs. For example, as well as decreasing anxiety and enhancing sleep, lavender oil can help to reduce symptoms from chemotherapy, including nerve damage."
Meanwhile, the non-invasive Japanese treatment of reiki focuses on the transfer of natural healing energy to the recipient from a therapist, who aims to change and balance psychological, emotional and spiritual energy fields.
"The dedicated and calm one-on-one attention a patient receives during a reiki session can actually promote self-healing by deeply relaxing the body, releasing tension and strengthening the body's own immune system."
Find out more about our health and well-being services.
Disclaimer
Any views expressed in this article are those of the featured specialist(s) and should not be considered to be the views or official policy of The London Clinic.