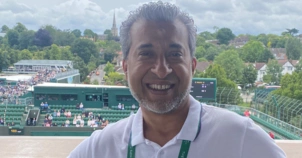 As the summer sun beckons us outdoors, many of us may embrace the freedom of open-toed footwear, barefoot beach walks, and long evenings of playing sports.
However, according to Consultant Podiatrist Mr Saj Afzal, there are certain precautions we can take this summer to avoid common foot issues such as fungal infections and muscle injuries.
"As a podiatrist, good foot health for me essentially means being pain-free," says Saj.
This summer, Saj's expertise will not only be on standby for patients of The London Clinic but also for the competing athletes of Wimbledon, when he works as part of the competition's on-site, multi-disciplinary medical team.
"It's fantastic to work with the players. They're such focused and elite athletes with amazing discipline. To help them play their game pain-free is a huge honour.
"At Wimbledon, feet are put through a lot. The friction and constant change of direction on the athletes' feet can cause blisters, corns, calluses, in-grown toenails, traumatised nails, and muscle injuries," says Saj.
The priority for Saj is to help each player get back to doing what they love – and have trained hard for – as soon as possible, and this is a mantra he lives by for every patient he sees. 
"Elite athlete or not, I treat every patient I meet in exactly the same way. We all deserve to recover from injuries and live our lives well," says Saj. 
One of the points he's keen to stress for all is the importance of supportive shoes. And although they're a summer favourite for many, flip-flops might not be the best choice.
"Flip-flops don't support the muscles in the feet, meaning they really have to work and will become fatigued. I'd recommend only wearing flip-flips periodically, at the poolside for example, and when you know you won't need to walk long distances. Wearing supportive trainers or shoes with arch support is a good idea, even if they're only worn for a little while," says Saj.
For keeping feet soft in summer, Saj also recommends keeping feet well-moisturised, even in the heat.
"But make sure the gaps between the toes are kept dry. This is where fungal infections can happen. In the daytime, don't forget SPF on the top of your feet. People tend to forget about that area!" says Saj.
If issues such as swollen feet do occur after a long day in the sun, gentle at-home treatments can work wonders.
"Foot soaks with Epsom salts and lukewarm water are good for swollen feet. Stretching the calves or having a foot massage can also stimulate circulation. However, any persistent swelling, pain, or redness on any part of the foot should be looked at by a healthcare professional," says Saj.
Saj is an expert in all foot and gait-related issues, including sports injuries, routine footcare and pain management. Find out more or book a consultation with Mr Saj Afzal.
Disclaimer
Any views expressed in this article are those of the featured specialist(s) and should not be considered to be the views or official policy of The London Clinic.