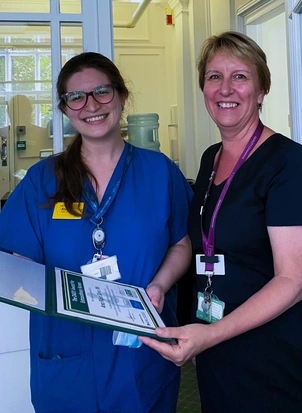 The DAISY Foundation™ was founded in 1999 in the United States in memory of J. Patrick Barnes by his family as a way of saying thank you for the care he received from his dedicated nursing team, and to acknowledge the care nurses give to their patients throughout the world. The DAISY Award® for Extraordinary Nurses is part of a programme that honours skilful and compassionate care given to their patients by registered nurses.  
Ms France Hamilton, a stem cell transplant patient nominated Ana, who cared for her during her four rounds of chemotherapy.   
"The procedure is stressful and has many side effects," said Ms Hamilton. "I was so lucky to be nursed by Ana during the first week and intermittently during the following ten days of my stay at the Clinic. 
"Ana was at all times professional, extremely knowledgeable, and kind. She administered Melphalan with another nurse and the stem cell transplant. Ana always gave me the time to discuss my worries and anxieties and she patiently answered my many questions. 
"Ana talked me through my blood results each day highlighting the important parts explaining them to me. She constantly went the extra mile and I don't know how I would have managed without her.
"An example of her sensitivity was when my hair started to fall out in clumps which was very distressing for me. Ana discussed all the options I had and I chose to have my head shaved
"She brought me the clippers and we selected the length. It only took five minutes but she shaved my head with such care and thoughtfulness. Ana then sensed I wanted to be alone to process what had just happened.  In consequence, I accepted being bald wholeheartedly because it meant the treatment was working. 
"I was able to leave the hospital earlier than expected and I am sure this was down to the care and reassurance I received from Ana especially, throughout my stay and all the team.
My family and I will never forget the million small and big ways Ana helped me.  I hope she knows what a difference she made and how much I appreciate her devoted care.
Have you been nursed by someone like Ana?
If you are a patient or former patient of The London Clinic, a friend or relative of a patient, or even a member of staff and you would like to nominate a nurse please contact Taslima Haq and email T.Haq@thelondonclinic.co.uk 
Alternatively, click here for an electronic nomination form or pick up a paper form on the wards, complete the details, and drop it into a nomination box.