"We work very hard to ensure that none of our surgical patients is at high risk of developing an MRSA infection. All our inpatients are screened as soon as they are admitted to The Clinic. We take swabs straight away and send these to our microbiology labs."
The swabs are cultured and results are available within 72 hours.
"If a patient is found to carry MRSA, they can be quite alarmed. We take time to explain to them that this bacterium is a variant of Staphylococcal aureus, a normal skin and nose organism that lives on the human body without causing symptoms or harm. However, if it enters a wound, such as a surgical wound, it can cause an infection, so it is important to deal with the situation effectively."
Working as a team
Blessed, who has worked as an infection prevention and control specialist in the NHS and private hospitals in London for several years, works closely with Dr Bruce Macrae and Dr Carmel Curtis, both Consultant Microbiologists and Mr Neil Booth, the Microbiology Laboratory Manager.
"In collaboration with the clinical teams on the wards and as a team, we  help care for patients who are admitted with an infection, advising on their treatment and conducting investigations into exactly what strain of bacteria is responsible."
An important part of infection prevention and control is providing information and training to staff within the hospital and promoting best practice, such as hand hygiene, as well as advising on isolation protocols and other procedures.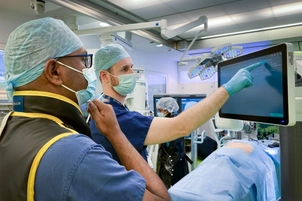 Advising on patient care
At The London Clinic, the infection prevention and control team perform regular ward rounds, spending time with patients with an infection, or who are particularly vulnerable because they are immunocompromised.
"This can happen particularly with cancer patients, either because of their disease or as a result of their treatment. They become particularly vulnerable to infection and need to be kept in isolation, with special precautions in place. We have positive pressure rooms with HEPA filtration for some patients to minimise their risk.
We work closely with our pharmacists and review individual patients and advise their consultant of the appropriate antibiotic to use."
Infection prevention and control is very successful at The London Clinic as a result of the strict measures and the excellent patient facilities we have in place.